NEMO-HD - Next generation Earth Monitoring and Observation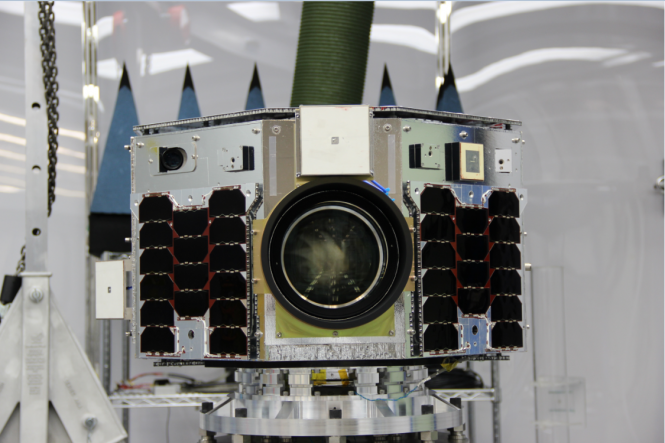 NEMO-HD is the first Slovenian microsatellite. It explores a new Earth observation concept by combining interactive real-time video streaming and multispectral imaging at 2.8 m ground resolution. The satellite is operated by the Slovenian Centre of Excellence for Space Sciences and Technologies SPACE-SI and was developed in collaboration with the Space Flight Laboratory from University of Toronto Institute for Aerospace Studies.
In addition to the two optical payloads, the satellite is equipped with a three axis attitude determination and control system, body mounted solar panels with maximum power of 55 W and 300 Wh Lithium-Ion battery pack. For command and telemetry, an UHF receiver and S-band transmitter are used, while the payload data are downloaded by 50 Mbps X-band transmitter.
With NEMO-HD in the orbit, SPACE-SI achieved a very innovative and cost effective remote sensing system that combines the agile microsatellite with the novel transportable ground station system STREAM and advanced data processing chain STORM. The main applications are aimed at monitoring smart cities, river basins and maritime as well as for enhanched EO applications for forests, agriculture, droughts, floods and invasive plants.
Satellite was launched with Vega rocket from French Guiana on September 3rd, 2020.
Characteristics of the SPACE-SI Earth Observation Satellite:
2.8 m PAN and 5,6 MS GSD from an altitude of 520 km
Four spectral channels (420–520 nm, 535–607 nm, 634–686 nm, and 750–960 nm)
High-Definition real time video at 1920 by 1080 pixels
Real-time imaging and video straming over Slovenia or other ground control infrastructure with the appropriate equipment
Three-axis stabilized bus
50 Mbps X-band downlink
279.4 GiB of on-board strage
Peak energy production 770.9Wh
Peak power production: 55W
Solar cells capacity: 180W (at -10deg C)
300 Wh Li-ion battery
NEMO-HD current position