New ground station STREAM
Wi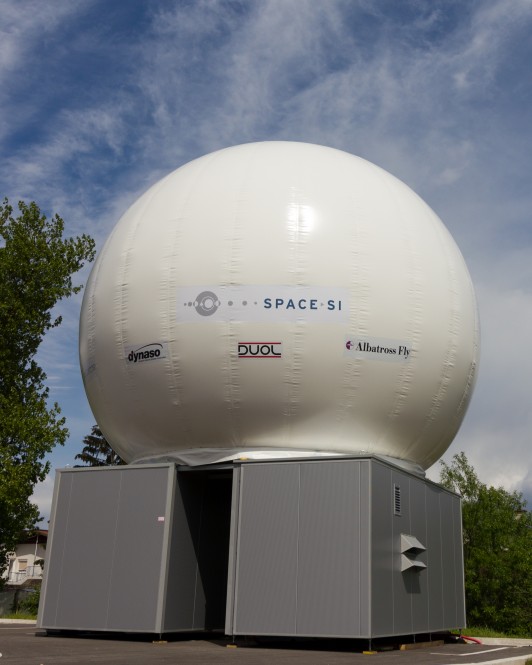 th revolutionary advances in the small satellite sector, especially related to the emerging mega constellations, SPACE-SI saw a need to design the groundstation that will be able to track a large number of low powered satellites, many of them cube-sats, that will produce huge amounts of fragmentally generated data.  This new trends in small satellite industry are driving up the demand for groundstations and similarly require significant reduction of procurement, operational and maintenance costs per antenna as well as an increase of their performance with respect to positioning accuracy, agility, durability and interoperability, under radically increased frequency of passes.  Additionally, the lower orbits (<400km), lower power, and higher frequencies up to Ka-band, will require both very precise reflector geometries and more accurate tracking at higher speeds, a problem for traditional pedestal geometries.
SPACE-SI with partners came up with a design that addresses all of the above stated issues by a combination of novel pedestal geometry, very rigid ultra lightweight reflector build from carbon fibre composites, usage of readily available COTS components, low component count and a modular software architecture.  The antenna is radome protected and air-conditioned, providing for all-weather operation and eliminating the effects of wind and solar radiation.  Control software was designed with ease of use, networking and remote operation in mind.  It employs simple interface for complete configuration, monitoring and control of antenna.
Key features of STREAM ground station:
 LEO tracking
high precision
Ka-band ready
full hemispherical coverage, no keyholes
carbon fibre dish
extremely low-loss ultra wide-band radome
fully automated
can be remotely operated
STREAM represents the next generation of LEO tracking ground stations by capitalizing on key innovations, such as:
New thin membrane radome material with less than 0,2 dB of loss at all frequencies up to 20 GHz and less than 0,4 dB up to 40 GHz.
New three axes pedestal geometry having full hemispherical coverage without keyholes.
New high precision single motor drive system for each acis that minimizes cost and complexity while maximizing accuracy.
Use of carbon fibre material for lighter, stiffer components and precise operation.
Maximum use of COTS components for low operating and maintenance costs throughout the whole life cycle of the system.
Rapid on site installation including optional portable version.
Optimized for NewSpace applications
Broadband and multiband communications for frequencies up to 40 GHz.
High precision tracking to enable the acquisition of narrow RF beam signals resulting from high frequencies, large apertures and antenna efficiencies.
Easy setup and rapid response time for tracking very low and decaying orbits.
High operational performance with precision, accuracy and repeatability.
Satellite data processing and mission control can be performed at the ground station or remotely
High reliability and maximum availability.
Extremely low total life cycle costs enabled by high MTBF and low MTTR.
Modular hardware and software design.
Very low complexity.